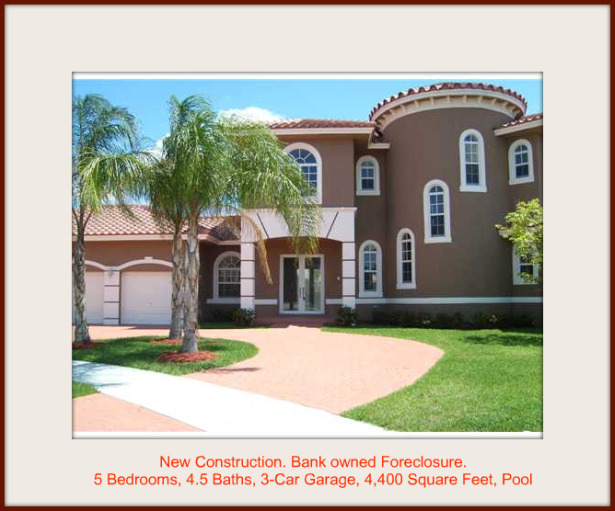 Featured above is a Bank owned Foreclosure of a new Construction Single Family Home that's offered for $650,000.  It has 5 Bedrooms, 4.5 Baths, a 3-Car Garage, Pool, Marble Floors, and 4,400 total Square Feet.  
The types of  Foreclosures available in the links below include Single Family Homes, Townhouses, and Condos, both Waterfront and non-Waterfront properties.   Waterfront Foreclosures currently available include Oceanfront, Riverfront, Intracoastal front, and properties located on Ocean Access Canals. 
The majority of properties in Broward County are not Waterfront properties.  That being the case, the majority of the Foreclosure Inventory is non-Waterfront property, however, many properties are located within close proximity of South Florida's Beaches and East areas. 
View detailed information here  about placing Offers on Foreclosure properties.
Below are links to view current listings of Bank Owned properties located in Broward County in Ft. Lauderdale and other Cities nearby.   
Foreclosure Listing Links
Most Bank Owned properties are purchased quickly, so Foreclosure Inventory changes frequently.   The Foreclosure page on my website includes current listings of Foreclosures, categorized by price range, property type,  and location,  including information about Ft. Lauderdale Waterfront Foreclosures.   Contact me if you would like to customize your search and want to receive listing updates of Foreclosures when they become available.