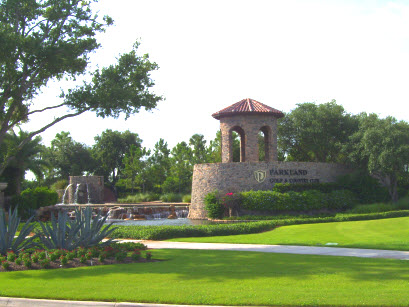 In a recent post, I mentioned that plans were in the works for Toll Brothers to purchase Parkland Golf and Country Club.  Well, the wait is over!  Thursday, Luxury Home Builders, Toll Brothers, bought PGCC for $53 Million (~$37 Million for purchase of the Community and assumed ~$16 Million for the Community's Development District Debt).
They will be completing construction of 350 Homes in the Community (which will bring the total number of Homes in the Community to 850) and will also be completing the partially finished Construction of the Club House that's on the Golf Course (the 43,000 Square Foot main Club House with Pools, Restaurants, Tiki Bar, Spa, Fitness Center, Children's Activity Center, Playground, and Tennis Courts is already complete and is in use by the Residents) .
The 350 new Homes that are being planned will range in size from 1,800 square feet – 5,400 square feet, with 25 Models offered.  Prices will range from the $400,000's – $1,500,000 and sales will start in January of 2011.
Reports indicate that there are 25 Developer owned Homes in the Community that have defective Drywall aka Chinese Drywall and Toll Brothers will be stripping those to the Studs and re-constructing them.   Reports also indicate that approximately 100 privately owned Homes in the Community currently have defective Drywall, which is significantly less than before since most Homes that previously had defective Drywall have already completed the process of defective Drywall remediation/repair.
Toll Brothers' purchase of Parkland Golf and Country Club is definitely great news for the Community and a very positive indicator of improved health in the Market. Toll Brothers has scheduled their first "Meet and Greet" with Residents on Monday and Tuesday of next week and will be meeting with Residents on a regular basis to obtain their input regarding the Community.
Homes Purchased in Parkland Golf and Country Club in 2010 and Homes for Sale
In 2010, sales of 57 Homes have been recorded in the Community.  Their purchase price range was $240,020 – $1,767,000, with an average purchase price of $464,000.   In August, I sold a Home in the Community to Buyers whom I represented and they are enjoying the Home and Community.   Bank Owned Foreclosures that were purchased so far have been on the market for an average of 30 days before being purchased, so they ARE NOT sitting unsold and the Community is rapidly becoming much more healthy than previously.  Currently, 25 Homes are listed for sale (resales by private Owners) and their price range is $379,000 – $3,474,000.
….



….
Related Information