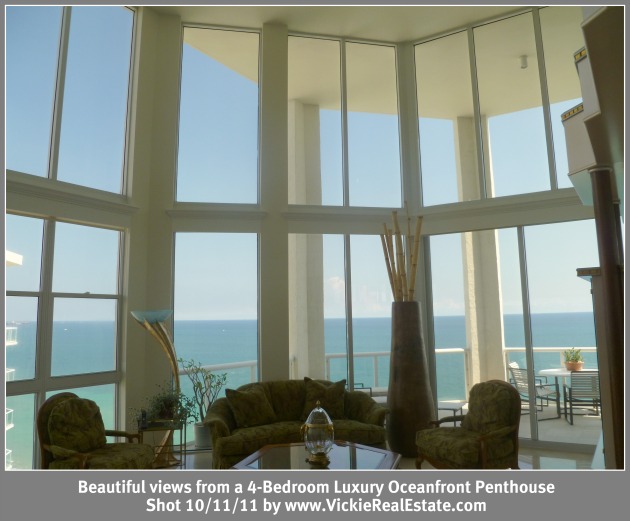 Large Condos with 3 or more Bedrooms are appealing to those who prefer a much more spacious Residence than what's offered in the average Condo (the average Condo size is ~1,200 Square Feet).   Most Condo Buildings have a majority of 2-Bedroom Units and a few 1-Bedroom Units, however, recently constructed Buildings are including more 3-Bedroom Units and in some Buildings, all of the Units have at least 3 Bedrooms.
Recent Market Activity
The sales level for Oceanfront Condos in South Florida has increased significantly and many Units have been purchased this year.   During the years of 2007 and 2008, we had the highest level of Inventory and the lowest number of sales.   Buyers who are new to the Market and inquiring about "all the empty Condos" are discovering that's no longer the case.  In 2009, sales began to increase drastically and that trend has continued, so many Buildings that were previously suffering from excessive Inventory, low occupancy and other forms of distress are now stable.
Information about the Condos that sold

:
During the first 3 Quarters of 2011, 250 Units have sold that are located in Oceanfront Buildings and have a minimum of 3 Bedrooms
The purchase price range of the Units was $180,500 – $3,850,000, with an

AVERAGE

purchase price of $759,000
The Units range in size from 1,300 Square Feet – 7,013 Square Feet, with an

AVERAGE

size of 2,300 Square Feet
Many of the Units have private Elevator entry directly into the Unit and a number of the Units are luxury Penthouses
Several of the Units have 4 and 5 Bedrooms
The Unit that was purchased for $3,850,000 is located in the Ritz-Carlton Ft. Lauderdale and has 7,013 Square Feet of Living Area, 4 Bedrooms, and 5.5 Baths
The properties that were purchased are located in Broward County in the Cities of Ft. Lauderdale, Deerfield Beach, Hallandale Beach, Hollywood, Lauderdale by the Sea, and Pompano Beach
More than 90% were Cash purchases
Foreclosures and Short Sales were a small percentage of the total sales (13 Units were purchased as Bank owned Foreclosures and 25 Units were purchased as Short Sales)
Buildings that sold the most 3-Bedroom Units THIS YEAR are

:
Trump Hollywood:  65 Developer Owned Units sold.  All of the Units in the Building have a minimum of 3 Bedrooms and were purchased in a price range of $650,000 – $3,055,000 (32 of the 65 sales were over $1,000,000). Built in 2009.
Beach Club Hallandale:  45 Resale Units sold in a purchase price range of $345,000 – $1,150,000, with an average purchase price of $605,438.  Built 2005 – 2007.
Diplomat Ocean Residences:  12 Resale Units sold in a purchase price range of $700,000 – $2,600,000. Built in 2007.
Hampton Beach Club in Lauderdale by the Sea:  7 Resale Units sold in a purchase price range of $350,000 – $535,000.  Built in 1980.
L'Hermitage Condo in Ft. Lauderdale:  10 Resale Units sold in a purchase price range of $740,000 – $1,525,000.   Built in 1998.
———–
———–
Related Information: