South Florida Oceanfront Condos
2014 Real Estate Market Report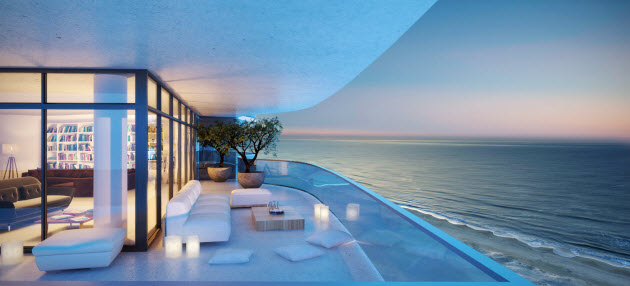 Oceanfront Condos in South Florida continue to be the most popular property choice for International and Domestic Buyers who purchase vacation Residences.    Prices for Oceanfront Condos within Southeast Florida's Tri-County area vary significantly based on location, construction age of the Building (recent vs. older construction), Amenities offered, condition of the Unit (move-in ready vs. renovation needed), size, types of Water views from the Unit, etc.  
When starting your property search, knowing what current property values are in various areas will assist in narrowing your property search and effectively identifying appropriate properties.
Details are included below about the current average purchase prices of Oceanfront Condos with a minimum of 2 Bedrooms sold this year (during the months of January – December of 2014) in Miami Beach, Sunny Isles, Bal Harbour, Hallandale Beach, Hollywood, Palm Beach County, Ft. Lauderdale, and Lauderdale by the Sea.    
In considering "Year Built", note that prior to the late 1990's when Construction of new Oceanfront Condos began to gradually increase, most of South Florida's Condos were built in the 1960's – 1980's, so in that context, a Building constructed in 1998 is considered to be fairly recent construction.  In Ft. Lauderdale, for example, only 4 direct Oceanfront Condos ON THE BEACH were built within the last 16 years and the rest were constructed in the 1980's and prior.   
Location
Year Built: Prior to 1998
Average Purchase Price 
Year Built: 1998 – Present
Average Purchase Price
Miami Beach
 $712,655+
 $2,141,794+
Sunny Isles & Bal Harbour
 $907,267+
 $1,430,000+
Hallandale Beach & Hollywood
 $381,850+
 $1,039,910+
Palm Beach County
 $646,036+
 $1,814,380+
Ft. Lauderdale & Lauderdale by the Sea
 $535,113+
 $1,389,639+
Individual Oceanfront Condos that sold for the highest purchase prices in 2014 in each of the 3 Counties are as follows:
Unit 3602 – 04 in the South Tower of Continuum Condo in Miami Beach  sold for a purchase price of $27,500,000 on December 17, 2014:   A spectacular Residence on the 36th Floor….3 Units that were combined into 1 featuring expansive views of the Ocean, Coastline, and City Skyline, 7 Bedrooms, 6.5 Baths, 8,229 Square Feet. 
Penthouse 2 at Sun & Surf Condo in Palm Beach sold for a purchase price of $8,250,000 on October 9, 2014:  a 3 Bedroom, 4.5 Bath Unit with 5,095 Square Feet and Ocean views. 
Unit 2001 at Ritz-Carlton Ft. Lauderdale Condo sold for a purchase price of $3,750,000 on June 24, 2014:  a 2 Bedroom, 3.5 Bath Unit with 2,960 Square Feet of Living Area, 4,139 total Square Feet, and Ocean views. 
South Florida Oceanfront Condos that completed construction in 2014 and set Record breaking purchase prices for new Construction include Edition Residences , Regalia Condo, and Oceana Key Biscayne, which recorded closed sales as high as $17,500,000 for an individual Unit. 
South Florida Pre-construction Condos that are expected to set record breaking prices for new Construction when they complete Construction  in 2015 and begin Closings include Faena House, Grove at Grand Bay, Porsche Design Tower, Mansions at Acqualina, Glass Condo, Beach House 8,  Ritz-Carlton Residences Miami Beach, and Chateau Beach Residences. 
Related information: