Prices for recently constructed
Oceanfront Condos in Palm Beach County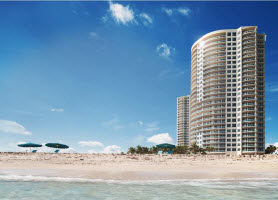 Recently constructed Oceanfront Condos in various areas of Palm Beach County are of significant interest to Buyers, however, those who are unfamiliar with the Market aren't aware that the majority of Oceanfront Condos in Palm Beach weren't recently constructed.  The vast majority of Beachfront Land in Palm Beach County that's large enough in size to accommodate Condos is occupied with Condos that were built during the 1960's – 1980's. The exception to this is Singer Island, which–of all Cities in Palm Beach County–has the highest number of recently constructed Condos that were built within the last 10 Years.
Most of Palm Beach County's recently constructed Oceanfront Condos are Boutique style Buildings with few Units (which, of course, limits availability even further) and the majority of available Residences are large Units–many of which have 3 Bedrooms and at least 3,000 Square Feet.
The Report below details information about purchase prices for recently constructed Palm Beach Oceanfront Condos that have been purchased Year-to-date in 2016 during the months of January – June.  This Report is specific to Condos that are located directly on the Beach–not across from it.  The Condos that are included are those that were built in the 2000's.
Clicking the hyperlinked name of each Condo will open its' profile page with information about the Building and available property listings.
4001 North Ocean Condo in Gulfstream: Built in 2013
Unit #106:  Purchased for $2,800,000 on January 15, 2016–3 Bedrooms, 3.5 Baths, 2,841 Square Feet of Living Area
Unit #305:  Purchased for $3,000,000 on May 17, 2016–3 Bedrooms, 3.5 Baths, 2,947 Square Feet of Living Area
Beachfront at Singer Island: Built in 2006
Unit #701:  Purchased for $1,370,000 on March 17, 2016–3 Bedrooms, 3.5 Baths, 3,110 Square Feet of Living Area
Unit #301:  Purchased for $1,300,000 on May 4, 2016–3 Bedrooms, 3.5 Baths, 3,123 Square Feet of Living Area
Bellaria Condo in Palm Beach:  Built in 2006
Unit #302:  Purchased for $1,650,000 on June 15, 2016–2 Bedrooms, 3 Baths, 2,273 Square Feet of Living Area
Excelsior Condo in Boca Raton:  Built in 2002
Unit #R-5:  Purchased for $4,200,000 on May 2, 2016–3 Bedrooms, 3.5 Baths, 4,370 Square Feet of Living Area
Luxuria Condo in Boca Raton:  Built in 2009
Unit #401:  Purchased for $4,800,000 on January 14, 2016–4 Bedrooms, 4.5 Baths, 4,424 Square Feet of Living Area
Oasis Singer Island:  Built in 2004
Unit #8A:  Purchased for $1,950,000 on June 15, 2016–3 Bedrooms, 3.5 Baths, 4,069 Square Feet of Living Area
Oceans Edge in Singer Island:  Built in 2008
Unit #1402:  Purchased for $1,975,000 on May 31, 2016–3 Bedrooms, 3.5 Baths, 3,136 Square Feet of Living Area
Unit #1001:  Purchased for $2,575,000 on April 8, 2016–4 Bedrooms, 4.5 Baths, 3,883 Square Feet of Living Area
One Thousand Ocean Condo in Boca Raton:  Built in 2010
Unit #303:  Purchased for $5,275,000 on January 14, 2016–3 Bedrooms, 3 Baths, 3,416 Square Feet of Living Area
Ritz Carlton Residences Singer Island:  Built in 2008
Penthouse 2A:  Purchased for $7,000,000 on March 1, 2016–4 Bedrooms, 5.5 Baths, 6,125 Square Feet of Living Area
Unit #301B:  Purchased for $1,671,000 on March 11, 2016–3 Bedrooms, 3 Baths, 3,030 Square Feet of Living Area
Unit #2402A:  Purchased for $3,550,000 on April 29, 2016–3 Bedrooms, 3.5 Baths, 3,950 Square Feet of Living Area
Unit #903B:  Purchased for $1,625,000 on March 22, 2016–3 Bedrooms, 3 Baths, 2,335 Square Feet of Living Area
Unit #404B:  Purchased for $1,358,658 on April 29, 2016–2 Bedrooms, 2.5 Baths, 1,920 Square Feet of Living Area
Unit #1406B:  Purchased for $1,050,000 on April 1, 2016–2 Bedrooms, 2.5 Baths, 1,725 Square Feet of Living Area
Related information: