Pompano Beach House Restaurant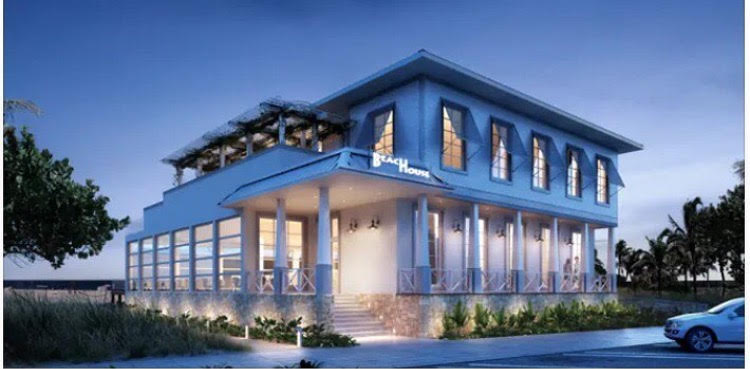 …
…
I checked on the Construction progress of Pompano Beach House Restaurant; it's going well and I shot the Video above while on-site. The picture above is a Rendering of the Restaurant.  The Restaurant is planned to open toward the end of  2017 and I'm looking forward to enjoying Dinner and Drinks there.   It will have a Rooftop Deck with views of the Ocean, Pier, and Lighthouse. Plans indicate that there will be also be live entertainment, a Lounge feel, and a 1st Floor Bar and Restaurant with the option to open to the outside to enjoy Ocean views and breezes.
Pompano Beach House Restaurant is located on the Beach at 10 N. Pompano Beach Blvd., across from the Pompano Beach Pier, and is reported to be owned by Ohio based Company, Jeffrey R. Anderson Real Estate, which also owns several other Restaurants in South Florida.
I love the location and the Development that's happening in the Beach area.   The City of Pompano Beach, Pompano Beach Community Redevelopment Agency (Pompano CRA), and Pompano Pier Associates are doing an amazing job with redevelopment of the Beach area.  The Pompano Beach Pier (an approximately 6-Acre area) is  undergoing a $15 Million reconstruction project and a number of other new Restaurants and Business are coming to the area as well.
Also quite noteworthy is the construction of Sabbia Beach Condo, which is located within walking distance of Pompano Beach House Restaurant.  Sabbia Beach Condo is located directly on the Beach and is a luxury Condo with a total of only 68 Units, planned for delivery in May of 2018.  Remaining Residences at Sabbia Beach range in price from $950,000 – $5,900,000.    Sabbia Beach has 2 Penthouses, 1 of which went under Contract for purchase last Year for a purchase price of $5,500,000.  The remaining Penthouse is listed for $5,900,000.    Click here for additional information about Sabbia Beach Condo.