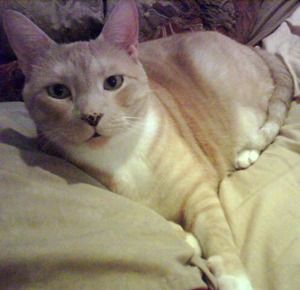 Pictured above:  my Tabby, Morris, Adopted in 2005 at the age of 3 through the Humane Society of Broward County (yes, he has Freckles on his Nose
).
If you're a Pet Owner, did you know that when you're searching for Condos or Townhouses, you're not just searching for yourself, you're searching for the perfect Home for your Pet as well?   Condos and Townhouses have Policies that not only allow or don't allow Pets, but also specify their size, type, etc.
Things you must know:
Some Buildings allow Cats AND Dogs and some allow one, but not the other.
The vast majority do not allow Dog Breeds that are considered to be aggressive…doesn't matter if your Dog is the sweetest thing.
Most limit the number of Pets that you can have. In many cases, 2 is the maximum number of Pets allowed and some only allow 1 Pet.
Many Buildings that are of older Construction (built in the 1960's – 1980's) do not allow Pets at all and the majority of those that do allow them restrict Pet size to 20 pounds or less, so just because a listing says that Pets are allowed doesn't mean that larger Pets are allowed.   In Ft. Lauderdale, a considerable number of Waterfront Condos are of older Construction, so that eliminates many Buildings from consideration for Pet Owners.
Almost all new and recently constructed Condos allow Pets and most allow Pets that are larger than 20 pounds, HOWEVER, this significantly affects which properties are available to you within a certain price range since most Waterfront Condos of recent construction have average prices of $500,000 and above.
Currently, there are 1,115 active listings of Waterfront Condos and Townhouses in Ft. Lauderdale.  Of that number, 663 allow Pets, so slightly more than 50% of the inventory is available to Pet Owners.
When searching for Condos and Townhouses on my website, you're able to select "Pets allowed" when searching for appropriate properties. I included a screenshot of the property search below and linked to a custom search for Waterfront Buildings that allow Pets in Ft. Lauderdale, Lauderdale by the Sea, Pompano Beach, Deerfield Beach, and Hillsboro Beach.  I suggest only selecting "Pets allowed" when searching instead of selecting "Cats allowed" or "Dogs allowed" because there are many listings where the Cat and Dog fields were not filled in by Listing Agents and if you add those fields to the search, you will likely miss out on properties that really were appropriate.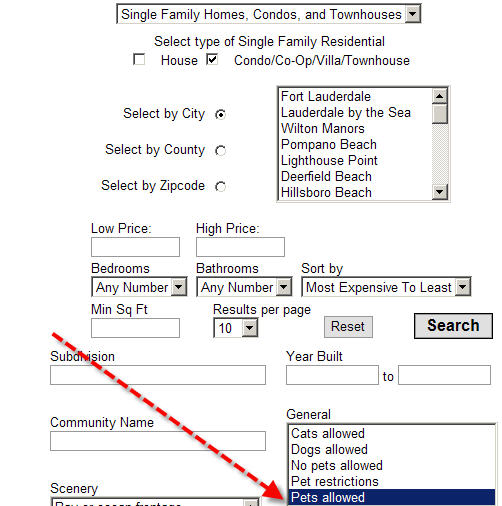 Other things to consider regarding Pet restrictions:
Future resale potential should be considered, so consider the fact that many people have Pets.  If you don't own a Pet and purchase in a Building that doesn't allow Pets, then list your property for sale in the future, you've eliminated all Pet Owners, many of whom might have been potential Buyers who were otherwise interested in the property (the American Pet Products Manufacturers Association estimates that approximately 63% of Americans own Pets and it's estimated that Americans spend more than $41 Billion yearly on Pets, so Pet Owners are not a small part of the population).
If purchasing for Investment purposes and planning to Rent the Unit to Tenants, consider that Tenants who have Pets are eliminated from the pool of Potential Tenants in Buildings that don't allow Pets or don't allow Tenants to have Pets.
A smaller Pool of prospective Buyers or Tenants usually equals an extended period of time on the market before finding an appropriate customer.
If you have Pets and haven't found the perfect Condo or Townhouse, Single Family Homes are, of course, an alternative.  Note as well that Townhomes are usually more flexible regarding Pet size and allowing Pets, so some of them could be great options for people who have Pets that weigh 30, 40, or 50 pounds+.
Note:   Associations typically have Policies that allow exceptions for Service Animals to be permitted in the Building.
Related information: