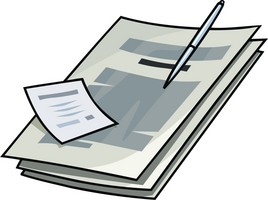 When interested in the purchase of a Condo, one of the important considerations is the financial stability of the Building.   That being the case, interested Buyers often ask about the process for obtaining Financial information for Buildings and many are unaware that standard procedures are already in place to ensure that they receive the information.   The process is straightforward and I highlighted several key points about the process:
Completing purchase of a Condo is contingent upon a Buyer's acceptable review of Financial and other information about the Building/Association.   An Offer to purchase a Condo includes an Addendum that states the following:  "…Seller will deliver to Buyer the current and complete Condominimum documents, including Question and Answer Sheet, current year-end Financial information and any recorded Amendments…no later than 3 days from Effective Date."  Condo documents include information such as Condo Rules and Regulations, Bylaws, Financial Balance Sheet, statement of Financial Reserves, Receivables and Payables, Insurance payments, Revenue, Utility payments, etc.

"Effective date" refers to the date on which the last party signed the accepted Offer.   Example:  Buyer signs an Offer on November 1st, presents the Offer to the Seller, Seller accepts the Offer and signs it on November 3rd.   November 3rd then becomes the Effective Date of the Contract.  When an Offer is signed by the Seller, it then becomes a Contract.  

The information listed in item 1 is provided to a Buyer AFTER there is an accepted Offer to purchase property.   Very rarely will a Unit Owner or Building provide this documentation to an individual who doesn't have a Contract to purchase a Unit.  

After receiving the documents, the Buyer has 3 days within which to review the documents and can cancel the Contract if any of the information is determined to be unacceptable.  Language in the Condo Addendum states "…this Agreement is voidable by the Buyer by delivering written notice of the Buyer's intention to cancel within 3 days, excluding Saturdays, Sundays, and Legal Holidays…"

If a Buyer is planning to Finance the purchase of a Condo, then the Buyer isn't the only one involved in the purchase who would be reviewing Condo Financial information.   Lenders require that Condos are financially healthy in order to finance purchases and if they determine that a Building is not financially healthy and does not meet their very strict criteria for Financing, then they won't approve a Loan for purchase of the property (review additional information about Condo Financing here).
Related information: