2012 Winterfest Boat Parade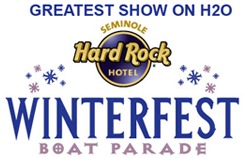 The 41st Annual Winterfest Boat Parade will be held Saturday, December 15, 2012.  The official start time of the Parade is 6:30 p.m. and various locations throughout Ft. Lauderdale, Lauderdale by the Sea, and Pompano Beach are great for watching the Show.
This year's Grand Marshal will be Inside Edition's Deborah Norville.    If you would like to ride aboard the Grand Marshal Showboat/Lead Yacht, The Floridian Princess, Tickets are $200 each and can be purchased here.
If you're planning to watch from the Grandstand at Birch State Park, the Watch Party starts at 3:30 and the Boats are estimated to begin arriving in that area at approximately 7:30 p.m.  The Party at Birch State Park includes Food Trucks, Craft Vendors, Live Music, Games for Kids, and more.  Adult Tickets for the Grandstand show are $22 each and Tickets for Children (age 10 and younger) are $18 each; you can buy them on this page of Winterfest's website and at various locations of Publix, BB&T Bank, Bennett Auto Supply, and the front desk at Seminole Hard Rock Hotel & Casino.  Grandstand Show Tickets are numbered and Reserved Seats for you to watch the Boat Parade.
Alternately, you may walk in to Birch State Park for a general admission fee of $3.00 per person and can participate in the pre-parade Party and/or watch the Parade on the Southern end of the Park near the Seawall if you bring your own Chair or Blanket, but won't be able to access the reserved, gated Grandstand area for seating.  It's just more convenient to buy a Grandstand Ticket
Free Parking for the Grandstand Party in the Park at Birch State Park will be available on Sunrise Blvd. in and near Galleria Mall's Parking Lots.   Shuttle Service will be available from Holiday Park on Sunrise Blvd. to take you to Birch State Park if you prefer not to Walk and will be available beginning at 3:00 p.m. (no parking will be allowed inside of Birch State Park).   Round-trip Shuttle service is $5 per person.  Click here to view additional details about Parking.
If you have a Boat and would like to enter it in the Parade, you can view the entry and rate details and download the Application here.
Additional options for watching the Boat Parade
A VIP Dock Party to watch the Boat Parade will be held at Riverside Hotel and begins at 6:00 p.m. (ticket price = $75).  Click here to purchase tickets.
A River Patio Party will be held at Riverside Hotel and will include an Open Bar, Hors d'oeuvres and Desserts.
If you end up missing the Parade or just want to watch it on TV or online, it will be airing as follows:
On WSVN TV on Saturday, December 22nd at 8 p.m., Tuesday, December 25th at 11 a.m., and Tuesday, January 1st, at 5 a.m. and 11 a.m.
WSVN's Sister Stations in Boston, WHDH, will air the parade December 23 at 1 p.m. and WLVI on December 23 at 5 p.m.
It will be re-broadcast throughout the Holiday season on Fox Sports Net
The Parade will be streamed live on Winterfest's website in January of 2013
Welcome to the 2012 Holiday Season!