Ft. Lauderdale Condo Hotels
Information about buying a Condo Hotel &
Current Prices for Condo Hotels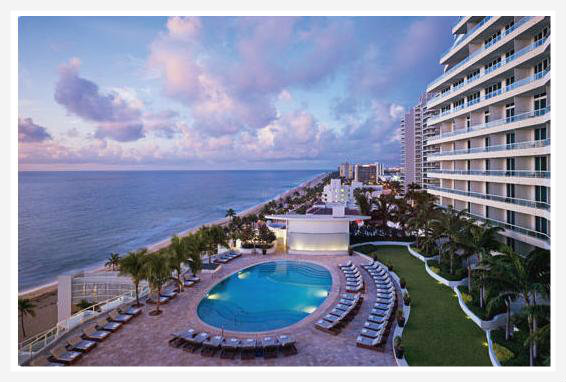 A Condo Hotel purchase is a great choice to consider for Buyers who are strictly Investors and for Buyers who purchase Condos as a secondary/Vacation Residence, but would like to rent them at various times.   Condo Hotels allow Owners to rent their Units daily, weekly, or monthly, which is in drastic contrast to the strict Rental restrictions at the majority of Condos that limit Rentals to minimum Lease periods of 3 Months, 6 Months, etc.  Of note as well is the fact that many Condos don't allow Owners to rent their Units during the 1st Year of Ownership and some even require that Units are owned for 2 Years before being rented.
Condo Hotels offer an in-house Rental Management program for rental of Units, however, some allow Unit Owners to rent their Units independently, through outside Management Companies, and Airbnb.  If you're interested in renting through Airbnb, a Condo Hotel, not Condo, is typically the best option to consider since there are few rental restrictions.  If you're considering buying a Condo and sneaking Airbnb rentals, please don't!!  There are serious penalties to Condo Owners who break the rules of the Condo Association.  Another important note regarding Airbnb rentals is that regardless of what a City and/or County's rules are regarding short-term Vacation rentals, Condo Owners are required to comply with the rules of the various Condo Associations, which quite often are different from the rules of the City and County.
Additional items that are important to note regarding Condo Hotel purchases:
Most Condo Hotel purchases are required to be Cash only. When Lenders changed their Condo Financing criteria in 2009, Financing for Condo Hotels became no longer available through the vast majority of Lenders since they are considerable non-warrantable.  Items that place Condo Hotels into the category of being considered non-warrantable by Lenders include an excessive number of Units that are rented, having documents on file with the SEC/Unit ownership that's promoted as an Investment, projects that are managed and operated as a Hotel even though Units are individually owned, etc. Fannie Mae and Freddie Mac won't secure nor purchase Mortgages for Condos and Condo Hotels that are considered to be non-warrantable.  Condo Hotel Financing in the current Market is available through a limited number of Lenders.
Condo Hotels

are not

the same as Timeshares.  A Condo Hotel Unit is owned individually by its' Owner and individually Deeded to them.
Room rental revenue is shared between the Hotel and the Unit Owner when the Unit is rented to a Guest through the Hotel's Rental Management program.  The revenue sharing split that is offered varies, however, in many cases, it's a 50/50 split between the Hotel and Unit Owner. In many cases, it's easier and more beneficial to rent through the Hotel's Rental Management Program.  Often, the money that you think you're saving by renting a Unit through outside Management or on your own isn't saving at all when considering the additional work that's involved, loss of Marketing benefits, etc.
The amount of Revenue that can be earned from renting a Condo Hotel varies, based on a number of factors, including but not limited to: How often the Unit is available for Rent, average Room rental rates at the Hotel, average occupancy rates, varying Room rates throughout the Year during peak Season and off Season, your carrying costs, etc.  Condo Hotel Owners often report that their Rental revenue covers their carrying costs, at minimum, and others report that they also earn revenue beyond their carrying costs.   

The Hotel, nor any other parties can guarantee how much revenue you'll make

. For Condo Hotel Units that have been rented and are on the Market for sale, their Unit Owners/Sellers will provide Revenue Statements for a Buyer to review after an Offer has been accepted for purchase of the property (included in the Disclosures that are provided by the Seller.)  The Buyer is provided with a specified time frame within which to review the Revenue Statements and all other Condo documents and Financials; the Buyer may choose to proceed further with the property purchase if the  information in the documents is satisfactory or may cancel the Offer is the information is determined to be unacceptable.

Scheduling Appointments to view Condo Hotel Units for sale is subject to the Unit not being currently rented to a Hotel Guest.  If the Unit/Room is currently rented, it can't be viewed until the Guest checks out of the Hotel, however, if similar Units are unoccupied, they can be viewed.  Hotels in South Florida have their highest occupancy rates during Holidays, special Events, Weekends, and the Winter Season, so it's very likely that many of them will be occupied if you visit during the Winter Season, Holidays, and at times when large special Events are being held in the area.

Property Taxes are not included in the monthly Maintenance fee.  Property Taxes will be estimated at 2% of your purchase price for the Property.
The amount that's paid for monthly Maintenance fees varies, depending on the property, and which items are included.  In most cases, the monthly Maintenance fee includes Water, Cable TV, Trash removal, Sewer, all Amenities, Building Staff, Reserves, maintenance of the Building's exterior and common areas, Pest Control, and Insurance for the Building's exterior and common areas.  Some also include Electricity and WiFi.   You will need to separately obtain Property Insurance for the interior of your Unit.
Average Condo Hotel sizes are smaller than average Condo sizes so far as Square Feet and number of Bedrooms.  Many Condo Hotel Units are Studio Units and 1-Bedroom Units.   Smaller Condo Hotel Units have higher Rental demand from the majority of Hotel Guests/are rented more frequently than larger Units. Yes, large Condo Hotel Units, Penthouses, etc. are available, but they aren't the majority.
At the majority of Condo Hotels, Unit Owners are not allowed to occupy their Units on a full-time, Year-round basis.  Most have restrictions that limit the total number of days per Year that Owners can occupy their Units, such as 60 days during Peak Season and 60 days during off Season.
Where are Ft. Lauderdale's Condo Hotels located and what are their prices?
Condotels in Ft. Lauderdale are located in the Beach area of Southeast Ft. Lauderdale.  Most are on A1A/Ft. Lauderdale Beach Blvd.  Below is a list of properties and their average purchase prices in 2017.  The name of each Condo Hotel is hyperlinked to their profile page where you can review additional details and currently available property listings.
Other South Florida Condo Hotel locations:  Condo Hotels are also located nearby in Hollywood, Sunny Isles, Miami, Bal Harbour, and Miami Beach.  Very few Condo Hotels are located in Palm Beach County.
Related information: