Auberge Beach Residences and Spa
Video, Update, Prices,
and currently available Units
October, 2018
…
…
I shot the Video above of Auberge Beach Residences in Ft. Lauderdale on Monday morning, August 6, 2018.

North Tower of Auberge:  56 total Units, 17-Story Building. The North Tower is 100% sold out.
South Tower of Auberge:  115 total Units, 23-Story Building.  The South Tower is 85% sold and plans to start Closings in December of 2018.
Remaining, available Units in the South Tower are priced from $2,500,000 – $5,090,900.
Auberge launched sales in December of 2014 for the North Tower and launched sales in November of 2015 for the South Tower.
Auberge Beach Residences Penthouses:  Both Penthouses are reported as "sold"/under Contract for purchase.  The Penthouse in the North Tower sold in July of 2017 for a reported purchase price of $9,500,000 (a 5-Bedroom 2-Story Residence with 5,686 Square Feet of Living area, 3,700+ Square Feet of outdoor space, and private Roof Deck with a Plunge Pool). The South Tower Penthouse sold in April of 2016 for a reported purchase price of $8,900,000 (a 4-Bedroom Residence with a private Plunge Pool on the Roof Deck.)
In the case of Condos that are Pre-construction and under Construction, "Sold" refers to Units that are under Contract for purchase (the Developer has accepted Deposits and signed Contracts from Buyers for purchase of the Units).
The Maintenance fee for Condos at Auberge is estimated at $1.00 per Square Foot of Living Area, which will include Water, Cable TV, Trash removal, Sewer, all Amenities, Building Staff, Reserves, maintenance of the Building's exterior and common areas, and Insurance for the Building's exterior and common areas.
Click here to review additional information about Auberge Beach Residences, including Floor plans .  Contact me if you would like to schedule an Appointment to view Auberge, would like additional details and/or would like to receive a current list of available Inventory of Condos for sale at Auberge.
Of new Condos that are currently being constructed in Fort Lauderdale, Auberge is the ONLY one that's being built ON the Beach.  The others are located across from the Beach and in other locations.
Within the last 21 years (since 1997), only 5 direct Oceanfront Condos ON THE BEACH were built in Ft. Lauderdale (view them here), the most recent of which is Auberge, so inventory of recently constructed Oceanfront Condos in Ft. Lauderdale is very limited.
…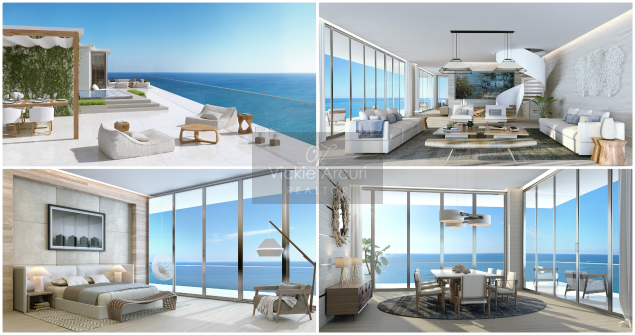 Related information: