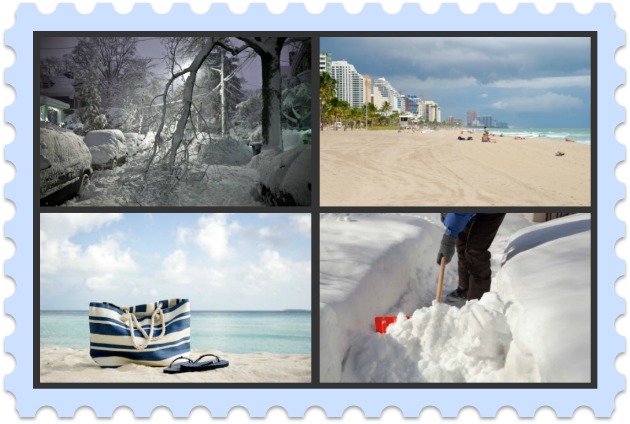 Welcome to South Florida
As areas in the Northeast U.S. are hit with an early Nor'Easter full of cold weather, Snow, Black Ice, fallen Trees and Powerlines, are preparing for Winter, and entering their slow Real Estate Season during Winter months, we in South Florida are entering our peak Real Estate Season.
South Florida's tropical Climate attracts visitors from around the world, affectionately known as "Snowbirds", who visit year-round, but in highest numbers during the months of October – March, during which time many of them purchase properties.
In the News and in Pictures: The Autumn Nor'Easter:
Notes about the current Real Estate Market in South Florida
South Florida has the highest number of sales to Domestic Buyers from Northeast States and other States who purchase vacation properties.   These sales are concentrated in Coastal areas of Florida, Southeast and Southwest, particularly Southeast, so our Market is much more vibrant and different than non-Coastal areas of Florida.
South Florida is very fortunate to be a Global Real Estate Market and a major Travel destination.   As such, we are not limited to local demand, nor held hostage by U.S. unemployment rates that affect Real Estate sales.   Of the 50 States in the U.S., Florida holds the distinction of having the highest number of sales to Buyers from International locations who purchase vacation properties (California is number 2 in that category and their prices and Taxes are higher than Florida's.)  Since I specialize in East, Waterfront, and Luxury properties, I've had the pleasure of representing a number of International and Domestic Buyers who have purchased vacation properties and I'm currently working with several such Buyers who are searching for properties.
Ft. Lauderdale is the Mega Yacht Capital of

the World

, so the Marine Industry is a large part of our economy.   With almost 200 Miles of Waterways, we have the most Ocean Access Waterfront of any City in North America,

HOWEVER

, Waterfront properties ARE NOT the majority of the properties for sale nor the majority of the existing Land.  These factors and others directly impact the high values and desireability of Waterfront Real Estate.
Sales in South Florida are the highest they've been in 5 years and current sales have actually exceeded the number of properties sold during the peak of Market in 2005.   The market has improved significantly and because of increased sales, inventory has decreased drastically.  This news is met with shock and disbelief by many Buyers who are entering the Market thinking that sales are still slow.  It's not 2007 – 2008 anymore (that was when we had the lowest number of sales and highest levels of Inventory).
Along with the rest of the Inventory, Condo Inventory has decreased drastically, thanks in large part to significant levels of purchases by buyers of Vacation and Investment properties, particularly purchases by Foreign Buyers.    With the majority of new Condos sold out or very close to being sold out and with demand for new product continuing, construction of several new Condos in East and Oceanfront areas is currently underway, which is surprising when you consider the levels of new, empty Condos that used to exist just a few years ago.
Cash sales dominate the Market, IN ALL PRICE RANGES.   ~80% of Condo purchases are Cash and ~40% of Single Family Home purchases are Cash.
Sales of Luxury properties have increased significantly and such properties are not the majority of the distressed Inventory.
South Florida's Inventory of Resale properties has decreased 40% within the last 2 years.
The factors that I mentioned above, along with other variables,  have helped significantly with quickly absorbing distressed inventory as it's released onto the Market by Banks.  However, I will note that Waterfront  Foreclosures are not the majority of the distressed Inventory (the majority of Land and properties are located West of I-95 and West of U.S. 1 in areas that are more distant from the Ocean).
Although current prices still reflect significant discounts from South Florida's peak prices (as much as 60% off in some cases), the majority of the lowest priced deals in East and Waterfront areas have already been purchased.   That's positive for the Market, but negative for Buyers who are looking for property deals that no longer exist.
South Florida is home to many U.S. and International Celebrities who own Luxury vacation properties or live here full-time and enjoy the Lifestyle that's offered.
Genting Group and Arquitectonica just unveiled plans to build a $3 Billion Bayfront Resort in Miami (World Resorts Miami), which will include 2 Condo Towers, 4 Hotels, Shops and Restaurants, a Convention Center, possibly a Casino, and more, with development scheduled to start as early as the Spring of 2012 (see video below).
 httpv://www.youtube.com/watch?v=wfnLzgNi3VQ
 Drastic, positive changes are occurring in the South Florida Market 
Old Market stats no longer apply!  
Things

ARE NOT AT ALL

the way they used to be
Welcome to the new South Florida
Related Information: